Usually, the prices of paver blocks per square foot is one of the first requests from the customers.
So we decided to make it easy for the customer to understand the prices behind paver blocks.
Typically, the price depends on various factors, including the different manufacturing types of pavers, the distance from the manufacturing facility and many more.
You should also know the different stages at which you have to pay for completing the project.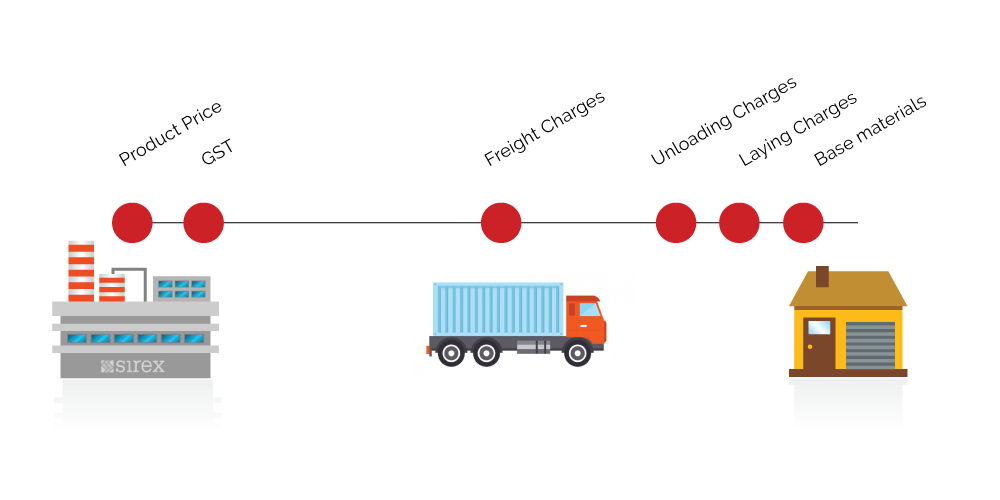 You'll find below, different price trends found in Kerala and Tamil Nadu. This is an average data found among various manufacturers.
Paver Blocks Prices in Kerala
From a state of oligopoly, we have come to a state where there are a lot of paver block manufacturers.
Like we mentioned earlier, there are usually 2 types of paver types
Dry cast paver blocks usually have prices in the range of ₹34-₹45 per square foot, ex-factory, pre-GST.
Wet cast interlocking pavers are slightly more expensive. They are available from the range of ₹43-₹54.
These are the average rates of interlocking blocks in places like Kottayam, Ernakulam, Alleppey and Trivandrum.
It could vary about 10% in North Kerala, in places like Kasargod, Kannur, Malappuram.
This is not a range that encompasses all the companies.
Several companies have products that do not fall under this range.
There will be other charges added to this - GST, Freight, Installation, Unloading, Subgrade materials.
Delivery Charges
The delivery rates of interlocking tiles depend purely on the location of the manufacturing facility.
If the factory is closer to your site, lesser the delivery charges.
It is impossible to predict the charges for freight unless the customer's site is known.
However, I can share a tip that you can use to negotiate the freight rates when you buy paving blocks.
Ask the Paver supplier to give a breakup of the total price. This will be Product Price + GST + Loading Charges + Delivery Charges + Unloading Charges + Laying Charges  + Base material charges.
You will know the delivery charges from this breakup.
Now, pick up the phone and contact 2-3 transportation agencies in your locality to find the freight charges.
If you do not know the contact numbers, simply type "Transportation Charges in (your place)" in google.
Compare the charges supplier is quoting versus the transportation agency is quoting.
Trust me, you will know if you are being fooled by the supplier or not, by simply doing this.
Pro tip: When you contact transportation agencies, make sure you tell them the total tonnage (ask the supplier) and the distance. Only then, they can give you a precise estimate.
Paver Laying Charges
Most of the homeowners who purchase paver blocks, require them to be installed also.
In case of builders or contractors, they'll always have a set of experts who would lay for them.
Average homeowner may not be aware of the standard charges.
So, this is for the homeowners.
Laying professionals usually do not take up earth moving work (basic work will be done).
Clients are expected to provide a level surface(slightly uneven is fine) for the work to be initiated.
The approximate range given below is excluding the earthmoving task.
Anywhere between ₹10 - ₹13 is a good price.
Base materials and basic levelling have to be done by the client.
There are suppliers who take up the base material work as well. Prices shall increase in that case.
For unloading the paver blocks from the vehicle, laying professionals may charge extra. In Kerala, due to intervention from Trade unions a specific rate cannot be attributed to unloading.
Paving Block price in Tamil Nadu
There are plenty of small local manufacturers in Tamil Nadu. It is often a herculean task to give a standard price list of all the paver block designs.
As mentioned earlier in this page, prices for the paver blocks majorly depend on the manufacturing process. Companies prefer different manufacturing methods in order to produce a desirable finish, strength and economics.
Dry Cast Paver blocks are available at the cost of ₹32 onwards. This would be for 60mm paving blocks.
As the dimensions increase, the price also increases.
Wet cast paver blocks are manufactured by a plethora of companies in Tamil Nadu. In Chennai, Coimbatore and Madurai you can get paver blocks for the price starting from ₹38. Laying charges, GST and freight would be additional.
This range can be used to have an idea of ex-factory prices of manufacturers.
In Coimbatore, paver blocks are priced competitively. You can get dry cast paving blocks from the price of ₹31 on.
Delivery Charges
From the factories in Coimbatore, Chennai and Madurai, most of the companies can supply paving blocks at a lower cost per square foot.
If the requirement is less than that of a full load, companies can club two orders so that each customer will only have to pay their share of freight charges.
You have to enquire this while placing the order.
Laying Charges
The rate of laying paver blocks is slightly lower in Tamil Nadu. You could get experts who lay paving blocks from ₹7 onwards. This might or might not include the rental charges for the compactor and its transportation.
However, there are experts who take up the complete laying work for ₹7 per square foot. In case of additional levelling work, laying professionals will charge extra.
Important Notes
There are certain very important things homeowners need to know before the order for products and installation.
Never purchase from Suppliers who do not charge you GST. Yes, it might be an additional expense for you, but it reveals the suppliers' credibility. IF A SUPPLIER IS READY TO FOOL THE GOVERNMENT, HE WILL BE READY TO FOOL YOU TOO. Moreover, such companies do not last for long. So, even their product/service quality won't be great.

Always ask the Manufacturer/Dealer to give a breakup of all types of charges included (product price, transportation, laying, unloading, compactor rental charges, etc)

Certain laying professionals ask for an advance amount before initiating the installation work. If the amount is a substantial amount, insist on making the payment after the completion of the project.

Don't be penny-wise and pound-foolish. Good brands have quality paver blocks that are unparalleled. But their prices will be slightly more than the local players due to the

standards in production

and

transportation charges.

You have to decide on whose hands do you want your project work to be given. After all, it is a one-time investment.
Disclaimer: This is only for informational purpose. This does not guarantee any confirmation of prices from Sirex or any affiliate. This page is based on average information collected over a period of time. The information here could be wrong and reader's discretion is advised.